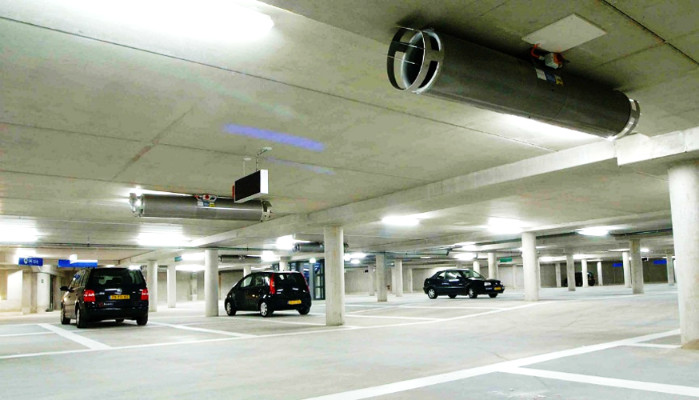 Parking Lot Ventilation systems are the preferred air conditioning solution especially in parking garages built on a large area. Due to the increase in the number of parking lots, the need for these systems has increased at the same rate. Ventilation systems are extremely important in the parking lots located under the complex buildings that are heavily visited.
A suitable environment should be prepared in case of a possible fire and emergency escape in the parking lot. Smoke control systems are therefore vital. Population density brought with it the increase in vehicles. Car parks are used to park vehicles in metropolises. Due to the increase in the number of car parks, the need for car park ventilation systems has increased.
The environment in the car park will be very dirty due to the exhaust gases of the vehicle. In order to ensure a healthy air flow in the parking lot, it is necessary to benefit from a good ventilation system. This need is much higher in complex buildings. Parking lots are generally built on the ground floor of buildings.
The ventilation system not only allows exhaust gases to be thrown out but also supports air control in cases such as fire. Jet fans are generally preferred in parking lot ventilation. Before the ventilation systems to be installed in the parking lots are installed, the dimensions of the space are calculated. The use of ventilation systems in closed parking lots has been made compulsory by law.
Ventilation systems must be aesthetically positioned in the right place. We can give you the support you need in a ventilation system. We can implement projects in a healthy way with our long-lasting products with international certificates. You can find the best brands in ventilation systems with us. You can buy our products with high quality standards in the air conditioning and ventilation sector with a single click.
How Should Parking Lot Ventilation Systems Be?
Car park ventilation systems should be created with proper planning and high efficiency should be targeted.
In the event of an emergency, air exchange should be made 10 times the volume of the single floor car park in smoke evacuation.
The total ventilation load on the ventilation shaft should be divided into two equal parts.
Ventilation fan systems should run for a minimum of two hours.
50% of the exhaust vents of ducted fan systems should perform high-level cleaning.
Fresh air should be given over the fans.
We are with you with our advanced product options on ventilation. Since the day we started to serve, we have combined expertise and quality in ventilation systems.
Car Park Ventilation Systems Advantages
The most important advantage of car park ventilation systems is that it is a high-level precaution in problems such as possible gas leakage. At the same time, parking ventilation systems, which prevent pest and insect reproduction environment, also prevent the formation of humidity.
It provides ventilation of the environment in case of problems such as fire, explosion or gas leakage.
It transforms closed spaces into healthy spaces.
Thanks to the ventilation, the formation of moisture is also prevented.
The reproduction of pests is prevented.
Dust formation in the parking lot is prevented.
Toxic gases come out.
Quality comes to your hand in ventilation systems. We have managed to become one of the respected brands in the sector without compromising our understanding of quality in this field. Together with our young and dynamic staff, we have never compromised on our commercial principles.
Parking Lot Ventilation Systems Usage Areas
We need ventilation systems in terms of human health and the environment. Ventilation systems are one of the most important issues for the health of living things. Clean air flow can be provided with parking ventilation in closed environments where vehicles are located.
Our company, which advances in ventilation systems without sacrificing institutional quality, can offer you ventilation systems at the most affordable prices. We can achieve clean air flow in the parking lot with special ventilation systems for complex buildings.
How Are Ventilation Systems Used in Car Parks?
There is an increase in the number of vehicles in big cities. The increase in the number of vehicles also causes the need for parking spaces. Car exhaust gases in parking lots make the air in the environment constantly polluted, which can lead to deterioration of our health.
In order for car parks to become reliable places, it is necessary to take advantage of ventilation systems. Together with our experts, we can help you with this. We can install the most suitable ventilation systems in car parks.
Ventilation systems in car parks allow harmful exhaust gases to be discharged in closed areas. It also provides the necessary support in times of emergency such as fire. We can be with you with our most suitable ventilation systems.